Having a funeral plan is a secure and cost-effective way of making sure everything is planned and paid for in advance, all at today's prices. Our Funeral Plans offer some of the best value in the market.
Our funeral planning services can make things easier for you, while supporting your family at what will be a distressing time for them.
We can ensure you have all arrangements in place, including:
Choosing a funeral director
Costs being accounted for
Having specified wishes carried out
We can take the stress out of making detailed arrangements and can take care of things you would rather not leave up to your loved ones to manage.
Planning your funeral arrangements
Our services are divided into a variety of plan options that match your own budget and preferences. You then have the freedom to add to your plan as you see fit, to ensure our funeral planning services are catered for you.
With changing times may come changing wishes – our plans allow you to come back and alter or add to any arrangements you have made, at no extra charge.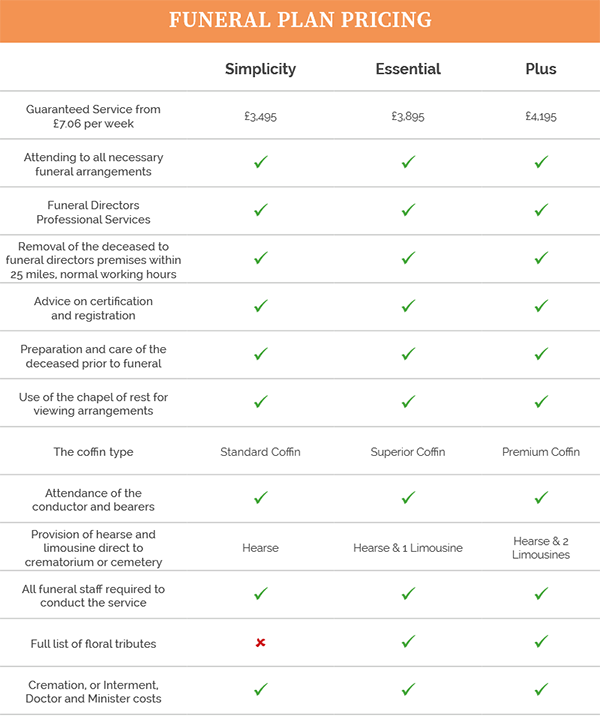 Avoid rising funeral costs
It's highly recommended to put funeral plans in place at the earliest opportunity to financially make the most of current prices. Back in 2004, the average cost of a funeral within the UK was around £1,920. However, recent reports (Royal London 2016) have shown this cost has now risen to £3,675 – meaning the cost has increased by more than 50% in just over a decade. If this trend continues, the average cost of a funeral by 2030 will reach over £5,500.
Let your family have the reassurance that your wishes are being carried out, with no financial burdens.
For more information about our funeral planning services please call us now on 0117 952 0698 or Make A Free Will Enquiry and we will discuss your current circumstances with you and explain all available options available to you.