If you go down to the woods today…
E.L.M Legal Services Ltd (E.L.M), who offer professional Will writing and Estate Planning services, are the proud sponsors of a life-size painted bear sculpture set to go on display at Wild Place Project this spring.
The bear will be part of a trail of 20 individually hand-painted 3D bears placed around the south Gloucestershire attraction, greeting visitors from April 6 until September.
Visitors will be able to follow a route around the park, to discover the 6ft (1.8m) tall bears, each of which is now being individually designed and decorated by a team of talented artists.
Will the ELM bear   has been painted by a talented local artist who took the design specifications from the office staff to make him look business like and professional.
E.L.M has generously sponsored the bear as part of a fundraising campaign for Wild Place Project's exciting new exhibit, Bear Wood, which is now being created at the attraction.
Jim Emsley, managing director at E.L.M said: "We are delighted to be working in partnership with Wild Place Project on this fantastic summer sculpture trail and is very happy with the design of Will the Bear.
Dr Justin Morris, chief executive of Bristol Zoological Society, said: "We are very much looking forward to unveiling our bear sculpture trail this spring and are very grateful to E.L.M for their support of this fantastic event. We hope these colourful sculptures will be enjoyed by thousands of visitors to Wild Place Project over the spring and summer months."
The new bear sculpture trail is being run in conjunction with Wild in Art, who developed the hugely successful Wow! Gorillas trail with Bristol Zoo Gardens in 2011, to celebrate the Zoo's 175th birthday.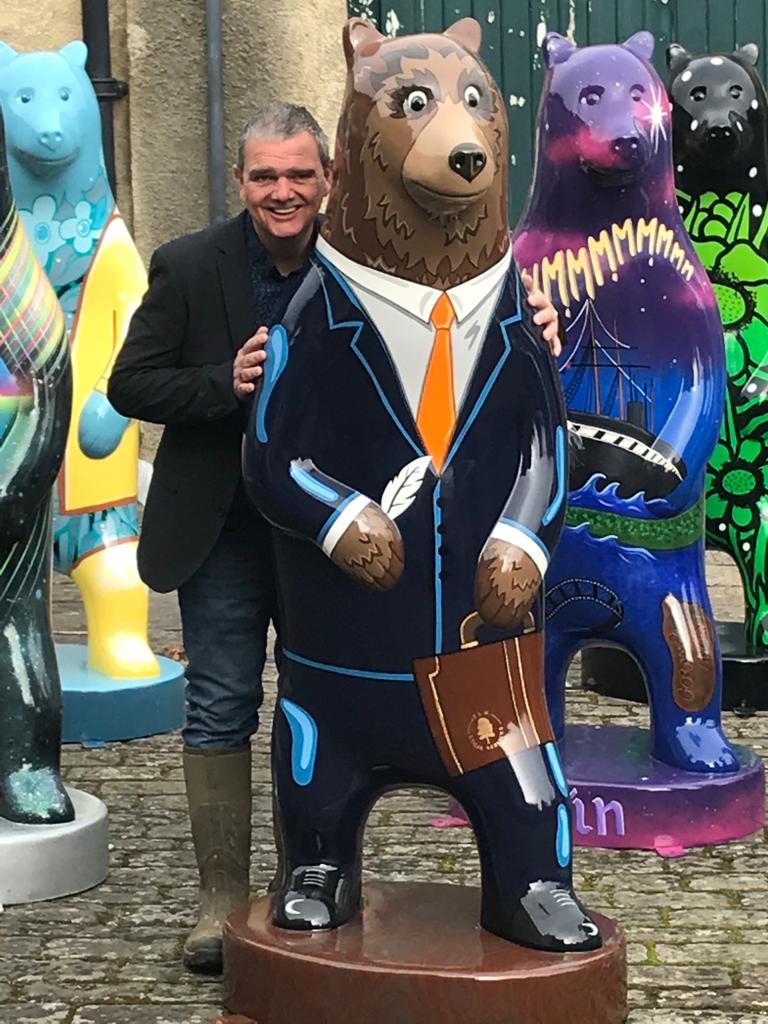 Nigel Simpson, head of operations at Wild Place Project, said: "The bear sculpture trail is a fantastic collaboration between Wild Place Project and many of our partners and supporters.
"It promises to be an exciting discovery trail around the attraction as visitors will be able to tick off the bears as they find them and take part in activities associated with the trail. It will be a wonderful prelude to the arrival of real bears later this year."
He added: "There is a great deal in store for our visitors throughout 2019 as Wild Place Project continues to grow and develop, and we are immensely grateful to all of our visitors, members, partners and supporters for helping us get to where we are today."
The sculpture trail comes ahead of the arrival of real European brown bears at the attraction, as a new exhibit called Bear Wood opens at Wild Place Project July. All 20 bear sculptures have been sponsored by local organisations as part of a fundraising campaign for Bear Wood.
Work is now underway creating the impressive new exhibit, which will also be home to wolves, lynx and wolverine and which promises to be the best bear exhibit in the country.
Visitors will be able to walk through the seven and a half acre exhibit on a raised walkway that will wind its way through the trees. New, 180-degree, floor-to-ceiling glass viewing areas and 'dens' will give visitors an up-close view of the animals living alongside each other in British woodland as they would have done in years gone by.
Bear Wood will transport visitors back to a time when these magnificent creatures roamed the UK countryside, taking them on a journey through the ages, to the present day, while showing the effects of woodland loss on our native wildlife.
Bear Wood is the story of what was, where we are now and what is still at stake. It will inspire visitors to protect our woodland for the native species that call it home, whilst helping to preserve this vital woodland habitat for future generations to enjoy.
To find out more about Bear Wood www.wildplace.org.uk/bearwood
Make A Free, No Obligation Enquiry Now
To speak with one of our specialist Wills & Probate Lawyers, please call us now on 0117 952 0698 or Make A Free Will Enquiry and we will discuss your current circumstances with you and explain all available options available to you.